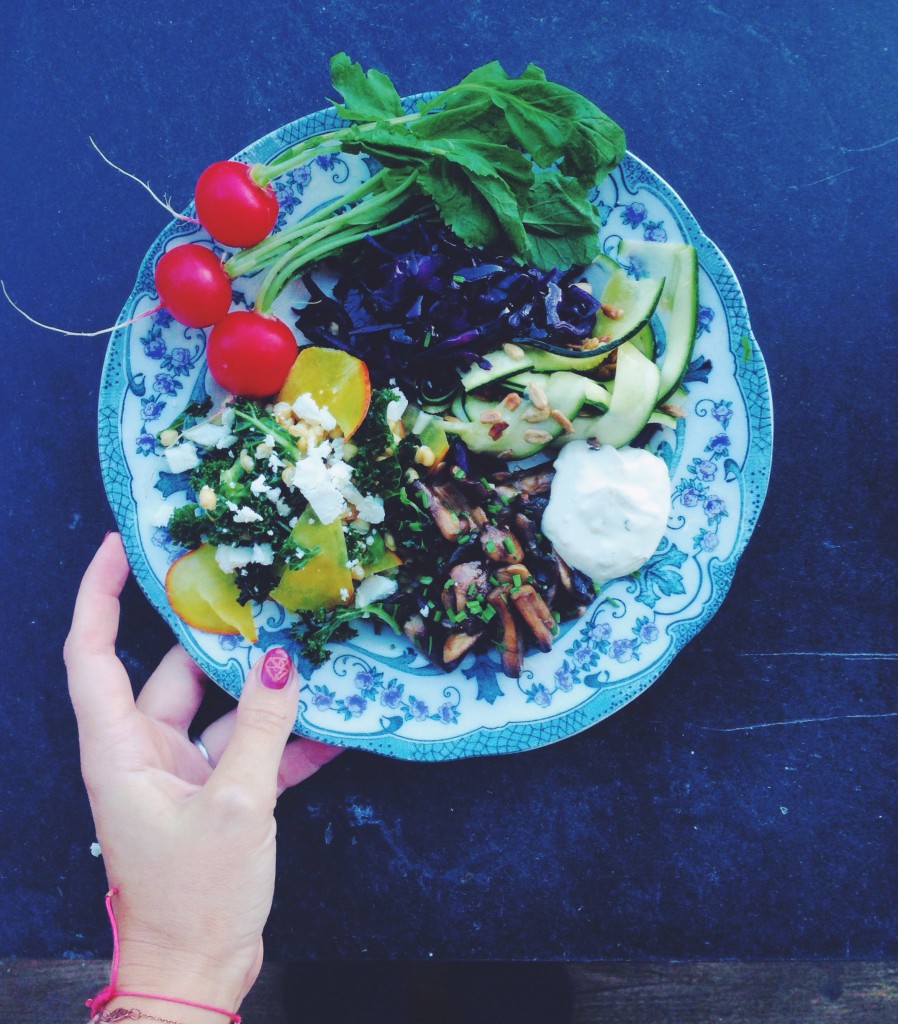 So. Vegetables. I love it. And I like to do my dinner from the things I have in the fridge. Like trying to get it as nice as possible without have to go and buy groceries. And actually, when I do my grocery shopping, I try to get it as cheap as possible. Its like a game. I love it. So, challenge yourself. Dont go to the store today. Do something of what you have at home. It doesnt matter if you just have frozen vegetables or one carrot (ok you should not starve but you guys know what I mean ok??). Challenge yourself to do something you havent cooked before.
Here is what I did of the things I found in my grandparents fridge and cupboards:
Braised red cabbage
1/4 of a head of red cabbage
3 big knobs of real butter
Like, hmm 4 dl of water or wine. Maybe a little bit more.
If you use water: 2 tbsp of vinegar
Salt and pepper
Slice the cabbage thin. Melt the butter and sautee the cabbage for 6 minutes. Add water or wine as it cooks. It takes about 15 minutes. Add salt and pepper.
Fried mushrooms with garlic and chives
1 box of mushrooms
1 clove of garlic
2 tbsp of olive oil
A lot of gently chopped chives
Just break the mushrooms in smaller pieces. You dont have to cut them. Heat a pan and add olive oil and the mushrooms. Slice the garlic thin. Fry the mushrooms until they are golden. Add the garlic, fry for 1 minute and then take the pan of the stove. Add chives. Salt and pepper. And maybe a squeeze of lemon juice.
Salad with things in your fridge
1 can of wheat berries or the same amount of lentils, chickpeas, beans, quinoa or bulgur
3 big handfulls of kale
1 bog yellow beet
1/4 package of feta cheese
1/2 of lemon
3 tbsp of olive oil
Salt and pepper
Rinse the wheat berries. Wash your beet and use a mandolin or a peeler to make thin, thin slices of the beet. Add the beet and kale to a bowl. Add olive oil, lemon juice, salt and pepper. Wash you hands and then massage the kale and beet. Massage for like 2 minutes. This will make it nice an chewy. Add the wheat berries and feta cheese.
Raw squash
1/2 green or yellow squash
1/2 tbsp of olive oil
1 squeeze of lemon juice
Salt
Top with roasted sunflower seeds
Peel or mandoline the squash in thin ribbons. Add salt, oil and lemon to a bowl and the squash. Mix with your hand. Let it rest for 5 minutes or more. The salt will make the squash a bit wet and wild hehe. No but its true, it almost cooks it a little bit. Ok the squash gets soft. In a nice way. Trust me
Sauce for all occasions
2 dl of creme fraiche or sour cream
1 tbsp of dijon mustard
1 big clove of garlic
1 squeeze of lemon juice
7 leaves of basil
Salt and pepper
Mix everything (mince the garlic of course) and let it rest in the fridge so the flavors come out.
EAT WITH RADISHES!
Make this. Or make something like this. You can always, ALWAYS change the ingredients ok.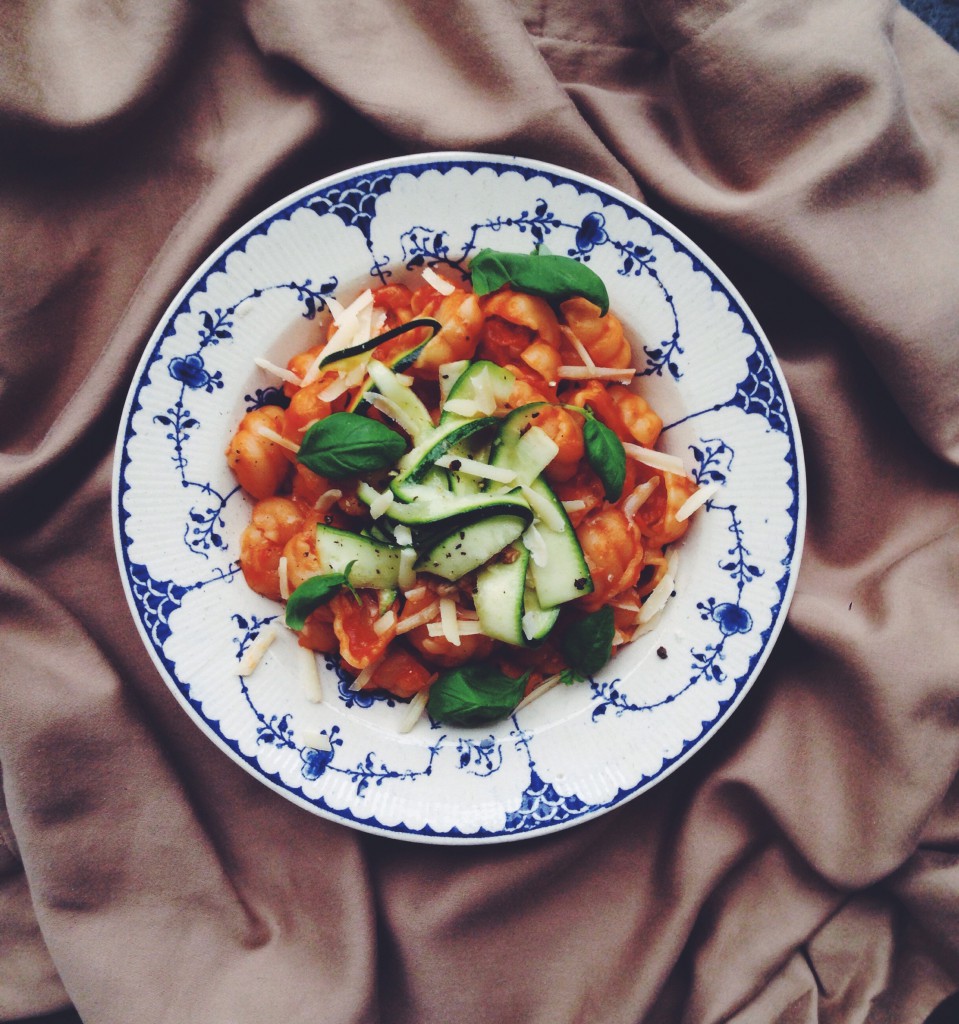 I always think about my baby mama Solvita when I cook this. We worked together last summer and when her birthday was coming up I asked her what she favorite dish was (so I could cook it for her on her birthday). I love her answer. Love. She said this. Pasta with tomato sauce. And the thing is, I could not agree more. It so simple but so damn good. If you make it like this, you can def cook it for someones birthday party. Plus its like the fucking best meal ever to cook for many people. SO NICE OK HERE WE GO:
Pasta with tomato sauce
(if you are making for more people just double the recipe or something, Im not good at math ok)
Pasta for four people (I love spagetti but you can use whatever you like, this day I used dried gnocchi)
1 big knob of water
1/2 cup of pasta water
500 g of crushed tomatoes
3 cloves of garlic
1 big yellow onion (or any other)
3 stalks of celery
2 tbsp of vinegar
Salt and pepper
1 handful of fresh cocktail tomatoes
4 tbsp of olive oil
1 pinch of sugar
Topping:
The raw squash in the previous recipe, Parmesan, Basil and some roasted sunflower seeds if you want.
OK: Boil your pasta in a lot of water and salt. Just before you drain the pasta, take a cup and scoop up some water, you are gonna need that later. OH AND IF IT SAYS ON THE PACKAGE THAT YOU SHOULD COOK THE PASTA FOR 11 MINUTES YOU SHOULD COOK IT FOR 9 MINUTES. JUST SO YOU KNOW. OK NOW WE ARE MAKE SAUCE:
Chop onion, garlic and celery. Heat a big pan on medium heat and add the olive oil and vegetables. Fry on medium heat until the onion is almost see-through.Like 5 minutes. Then add the tomatoes, bothe the canned ones and fresh. And salt and pepper. And some vinegar. And the sugar. Let it simmer for almost 10 minutes. You can of course try to time the pasta so they are boiling away at the same time. Stir occasionally and after ten minutes have a taste. If its good its good. If its not, add some more salt, pepper, olive oil, vinegar you name it. Taste again.
So, the pasta is just drained and you have the cup with pasta water on the side. OK. Pour the pasta back in the big pot were you boiled it and add the big knob of butter. And then, add the tomato sauce. Everything yes in the same pot. Stir for your life. Add some of the pasta water to get a nice texture (you might not need all of the water but I always take out more than I need).
Serve on the table and the toppings. A glass of red wine is suitable of course. Happy Tuesday!
Puss