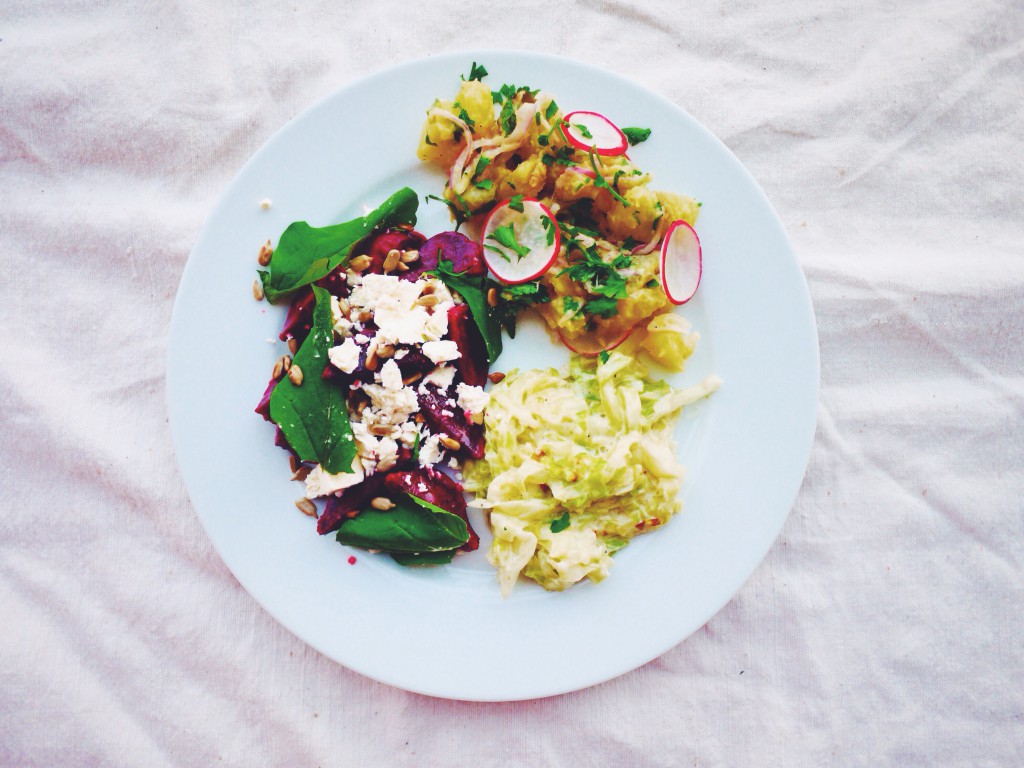 I love sides. They are the best. French fries, salads, gratins. Everything. Made three sides for dinner the other day. Eat them as they are or with some fish, halloumi or something grilled. If your not a vegetraian, eat with chicken or meat. Just EAT IT OK!
Potato salad
For four:
1 kg potatoes
1 bunch of fresh radihes
3 scallions or one red onion
Dressing:
3 tbsp olive oil
1 tbsp vinegar
2 teaspoon dijon
A splash of lemon juice
Chopped parsley
Salt and pepper
Boil the potato with the skin on. Slice the radishes. Mix the dressing. Cut the potatoes in different sizes and mix with the dressing while they are still hot. Top with onion or scallion that you sliced thinly. The radishes and parsley. The best potato salad ever. Throw in some capers if you fancy, I LOVE CAPERS OK.
Beet salad for four
1 kg beetroots
3 tbsp olive oil
Salt and pepper
A splash of lemon juice
1 package of feta cheese (room temperated please)
1 bunch of arugula
2 tbsp of roasted sunflower seeds
Boil the beets with the skin on. Rinse in cold water when they are done and pop them out of their skin. Cut in different sizes. Mix with olive oil, lemon juice, salt and pepper while they are still hot. Top with arugula, feta cheese and sunflower seeds.
CREAMED CABBAGE
One half of a head of fresh summer cabbage otherwise savoy cabbage or pointy cabbags (?)
2 dl of whole cream
A splash of milk
2 tbsp of butter
Salt.
Cut the cabbage in thin thin slices. Heat a pan and add the butter. Fry the cabbage for 5 minutes, do not let it take any colour. Add the cream and cook until its ready, maybe 5 minutes. Or until the cream is thicker. Add some more butter. Salt. Maybe a splash of lemon juice for freshness.
I LOVE YOU VEGETABLES