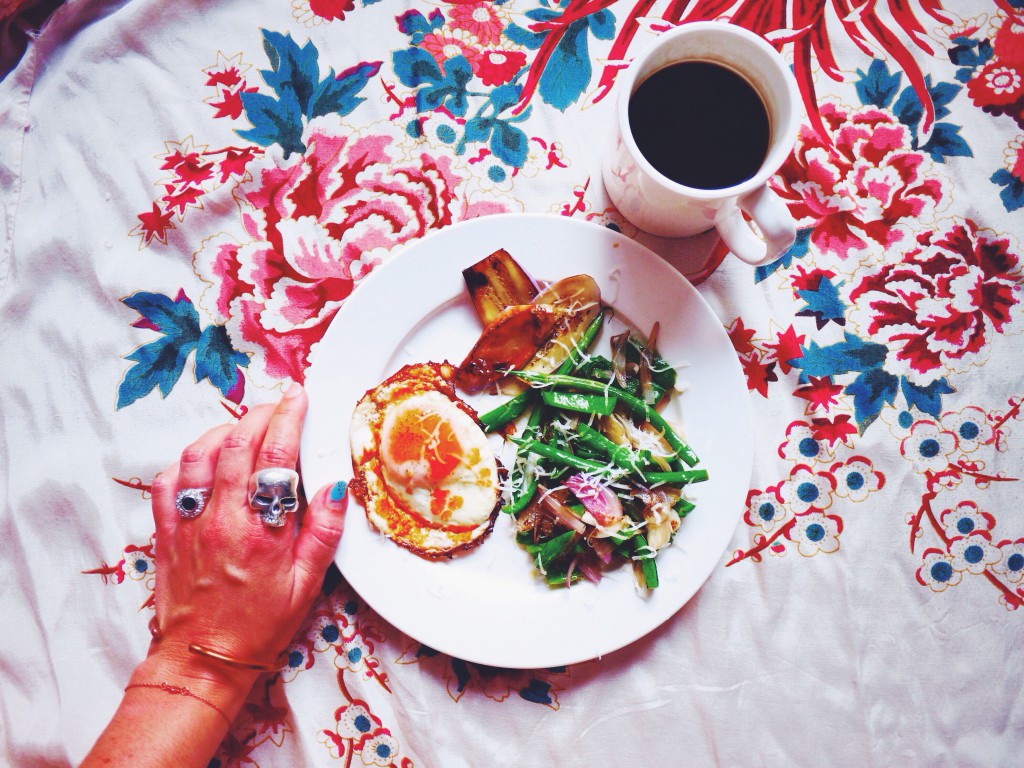 Im not hungover though. Ive had three glasses of wine since I came here. So. Hehe I mean, not so much alcohol-ish things are happening here. BUT ITS SUNDAY AND IF YOU WERE HUNGOVER YOU SHOULD HAVE WHAT I HAD FOR BREAKFAST INSTEAD OF PIZZA. Trust me. Something light. Or like a salad. Ok I eat pizza too when Im backdrunk. But its not always worth it.
Ok. I had NOTHING in my fridge. Patrik ate all the crisp bread. OK I had some stuff but not enough for like scrambled eggs or a really nice sandwich. So I made this instead:
1/2 of a green capsicum
1 red onion
3 haricot verts or green beans
1 or two slices of and eggplant (I used on really small)
1 egg
A few drops of hot sauce
Some canola oil like a drizzle
A small knob of butter
Cheese to grate, I used hard goat cheese
Slice you veggies. Not the green beans though. Just cut off the "beginning" of the bean, it looks like a tail. No need to chop of the other side, just one side. The one tail thats a bit thicker. Ok green bean school ended.
Fry your eggplant on high heat in canola oil until golden on both sides. Set aside.
Bring some water to boil in a small pot and boil the beans for 2-3 minutes. Drain them.
Turn the heat up using a frying pan, add some canola oil and add onion, capsicum and the cooked beans. Fry on high heat, stir all the time. When the onions are cooked, put it on a plate.
Add some butter to the same frying pan, crack your egg and cook until its like you want it. Add some hot sauce. Salt and pepper.
Put everything on a plate. Grate some cheese over. Eat with some bread or as it is. This is everything.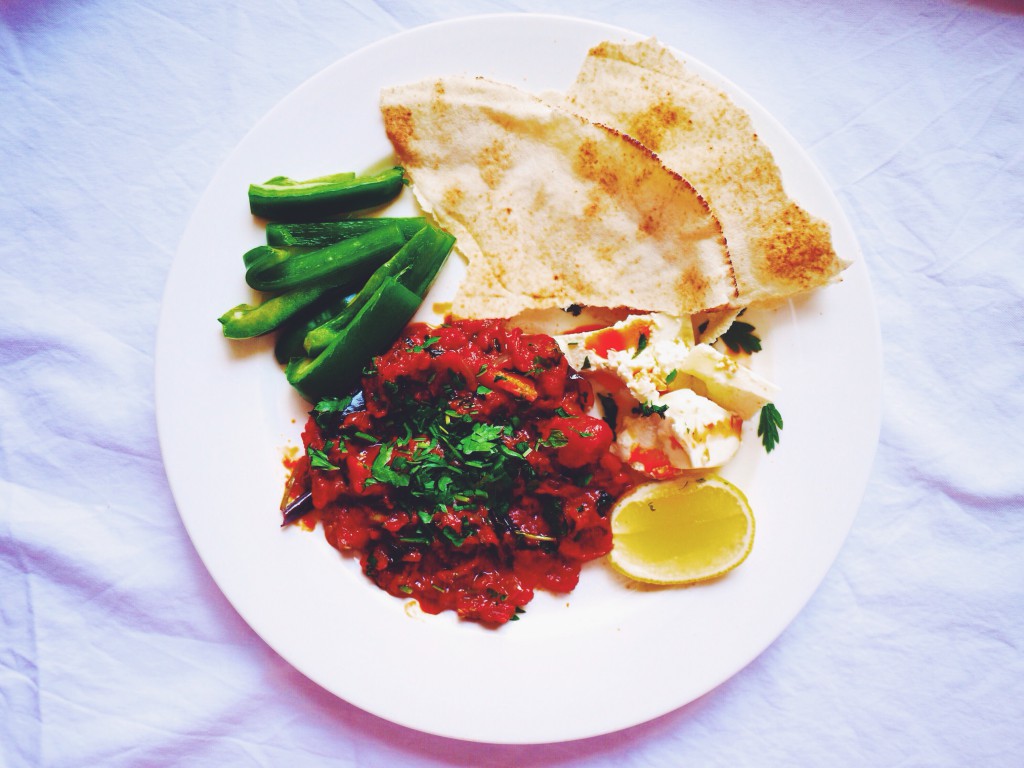 EGGPLANT! LOVE EGGPLANT SO MUCH YOU CAN DO SO MUCH WITH IT. We had dinner at my cousins house the other day and she made this easy awesome tomato sauce with eggplant. Just flat bread and some feta cheese as sides. It was so good. So I hade to make it as well. Thank you Anna!!
Tomato sauce with eggplant:
1/2 of a medium sized eggplant or a whole, sliced in thin slices
1 can of chopped tomatoes
1 onion, chopped
3 cloves of garlic, sliced in thin slices
Olive oil, liquid
Parsley, chopped
Salt and pepper, grinded
Ok. Put a frying pan on high heat, add olive oil. Fry your eggplant until its golden brown. Set aside.
Turn the heat down. Add some more olive oil. Add the onion and garlic. Stir and fry on medium heat for 2 minutes, dont let the onion or garlic take color. Add tomatoes. Stir. Cook for 8 minutes.
Chop your cooked eggplant in different sizes. Add them to the sauce. Cook for another 3 minutes.
Add chopped parsley. Serve with flat bread, lemon, feta cheese and whatever you like. Some olive oil of course. And some green capsicum which I use for everything now.
PUSS!