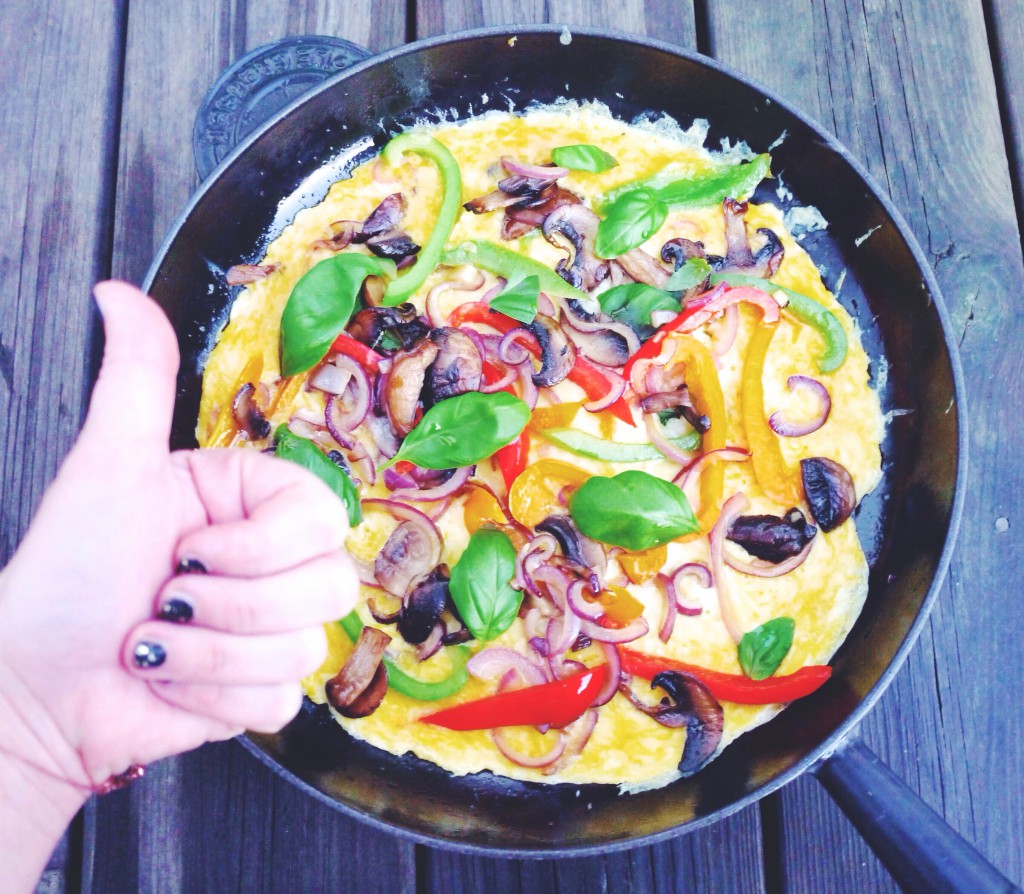 Omelet!!! Omelette. The very fine thing about this baby is that you can put WHATEVER you like in it. Is it not amazing. Plus it will make you ful and happy.
5 organic eggs
4 tbsp of milk or water
Salt and pepper
5 stripes of a red capsicum
5 stripes of a yellow capsicum
4 stripes of a green capsicum (or just take one color, the amount is approximately 1 capsicum)
1 red onion (small)
6-7 medium size mushrooms
1 tbsp of butter
1 handfull of grated Gruyère cheese
Basil
DO LIKE THIS:
Add 5 eggs, the water or milk, salt and pepper to a bowl. Break the eggs with a fork but do not whisk too much. Set aside.
Ok. Cut your capsicum in thin stripes. Look at the picture above. Slice your red onion and mushroom.
Add butter to a frying pan. Add the capsicum, red onion and mushroom. Stir and cook for 3 minutes but dont let it take any color. Add a little bit more butter or rape oil and add the eggs. Stir so the vegetables are evenly spread out. Add the cheese evenly. Turn the heat down and cook the omelet for about 10 minutes or until it starts to set on the top. 5 minutes into cooking you can check that the omelet didnt stuck in the pan. If it did, its OK!!! If it did not, that is also ok. The point is, you made an nice omelet, it does not matter if it got stuck in the pan. You can eat it anyway. I promise. Add some basil and eat with a salad.
Other things that you can have in your omelet:
Squash, eggplant, tomatoes, asparagus, garlic, broccoli, leek, carrot, spinach, kale, swiss chard, peas, haricot verts, scallion, potato, onions, all kinds of cheese, herbs, celery. Yeah and some more stuff. Good luck!