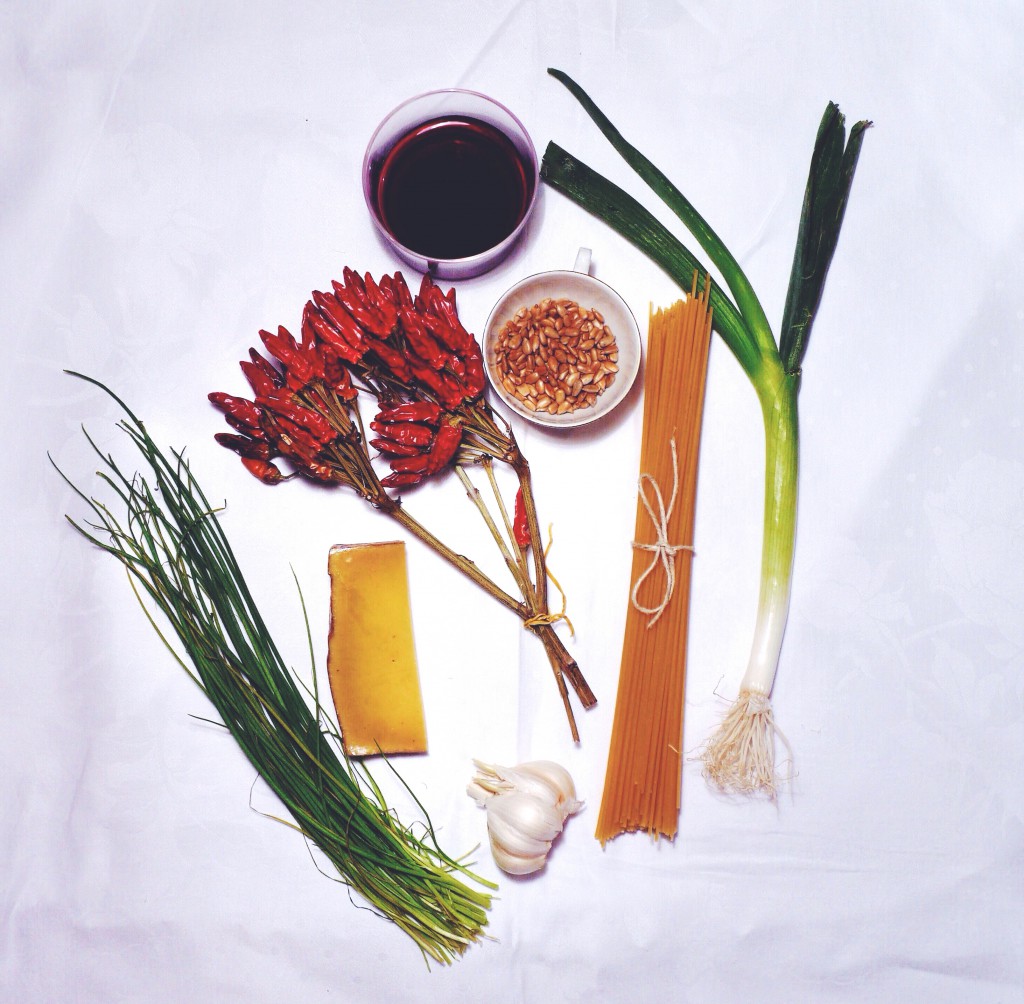 When I have no idea what to make for dinner, I always make pasta. I didnt always do that. I had a period in my life where I didnt eat so much pasta. Or carbs. I was scared of carbs. BUT NOW THANK YOU PASTA FOR CLEARING THINGS UP!!
Carbs are not dangerous. Eat your pasta. Maybe not every day, every week, every month, every year. But sometimes. And eat potato. And bread. But mix. Eat a salad one day, pizza the other.  Thats how I do it. BALANCE KIDS. It works for me. I feel happy. And thats all food is going to make you feel. HAPPY AND FULL! AND NICE AND GOOD.
So tonight we have my favorite pasta. And the easiest.
Pasta for two
Chives (or any other herb really, you can use parsley, thyme, basil, mint or tarragon!) Mix and match people
3 or 4 cloves of garlic (I took 5, do it you too)
One scallion (if you have it, if you dont, just leave it out)
1 small dried chilli
A splash of red or white wine (a splash!! fuck I dont know maybe 2-3 tbsp?)
A nice cheese, My husband got this nice Swiss alp cheese for me
Roasted sunflower seeds (or pumpkin seeds, or sesame, or pine nuts, or walnuts, or hazelnutz, you get the idea)
One knob (hehe) of butter
1 tbsp of nice olive oil
Salt and pepper
OK. COOK your pasta. Dont over cook it please. When the pasta is cooking, slice garlic, scallions and chives. Put a large pan on medium heat, add olive oil. Fry the garlic and scallion. DONT BROWN THE GARLIC. Cuz I dont like that. Turn up the heat, add the wine and boil for 1-2 minutes so the alcohol evaporates. Turn the heat down. Crumble your chilli in. Drain the pasta and save a mug of the pasta water.
Add the pasta to the pan. Add half of the mug of water. Stir. Add the butter. Salt and pepper. Add the chives, sunflower seeds and grate some cheese on top. Have some red wine if you like. I did.
REMEMBER THAT FOOD IS AWESOME!
PUSS