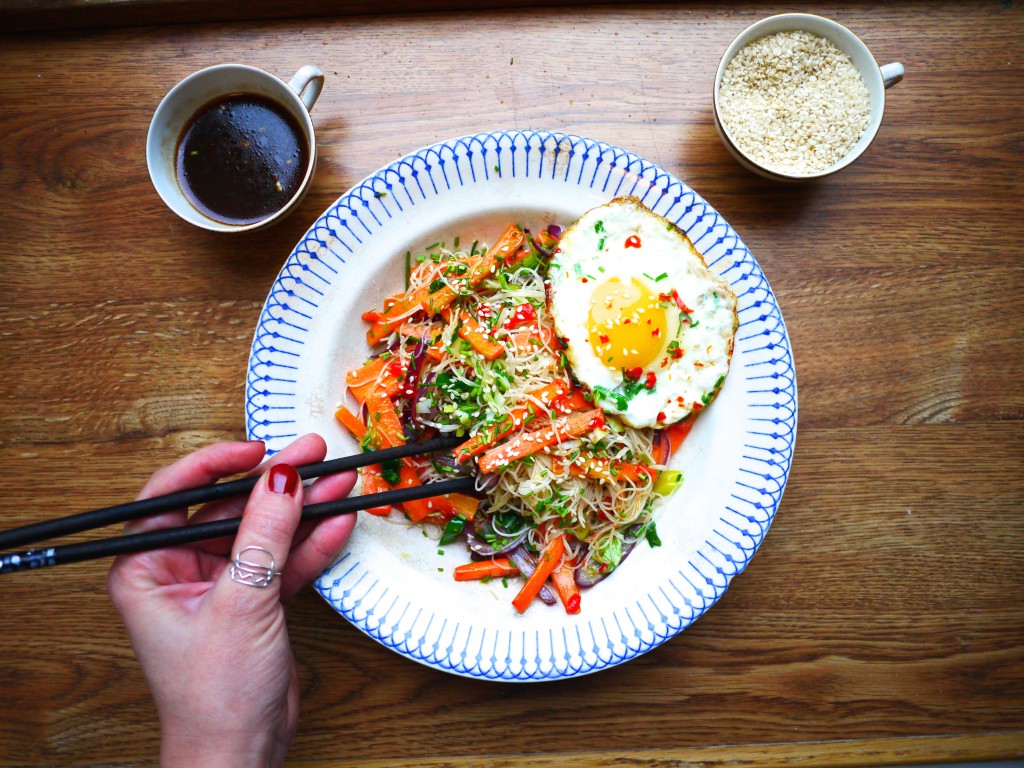 Spent three hours up in our attic and cleaned. So I was so fucking hungry when I came down. So. Because I clean everything now I dont have so much food in my fridge. So I had noodles. IT WAS DELICIOUS OMFG.
For 1 hungry human
So much rice noodles you think you can eat (thoses thin ones, not the ones you eat with pad thai)
2 smaller carrots
Half of a red onion
1 big scallion
1 egg
Neutral oil
Some chives
For the dressing:
1 tbsp rape oil
1/2 tbsp of sesame oil
1/2 tbsp light soy sauce (NOT MUSHROOM SOY NO DEAR GOD NO)
1 clove of garlic
1/2 tbsp of hoisin sauce
1 teaspoon of rice vinegar
Mince the garlic and mix everything for the dressing. If you dont have hoisin sauce, take a pinch of sugar. If you dont have light soy sauce, DO NOT TAKE MUSHROOM SOY. What I mean is taht you can add and take away ingredients that you dont like or do like! Nice huh.
Ok. Soak the noodles in warm water for 3 minutes. Peel the carrot and chop it in thin slices. Chop your red onion in small wedges. Chop your scallion.
Take a pan. Add rape oil. Fry your egg til the yolk is still runny. Set aside the egg. Add some more rape oil. Add the carrot and fry for 2 minutes. Add the red onion and fry for 1 minute. Add the scallion and fry for another 1 minute. Drain the noodles and add them as well. STIR A LOT. Put everything in a bowl and add some of the dressing. Stir. Put on a plate. Add the egg. Sprinkle with sesame seeds and chives.
When you eat, you can ad a bit more dressing if you want. Break the egg and enjoy. MEAT FREE GLUTEN FREE. Im so nice to all the animals and all the flour out there.
PUSS