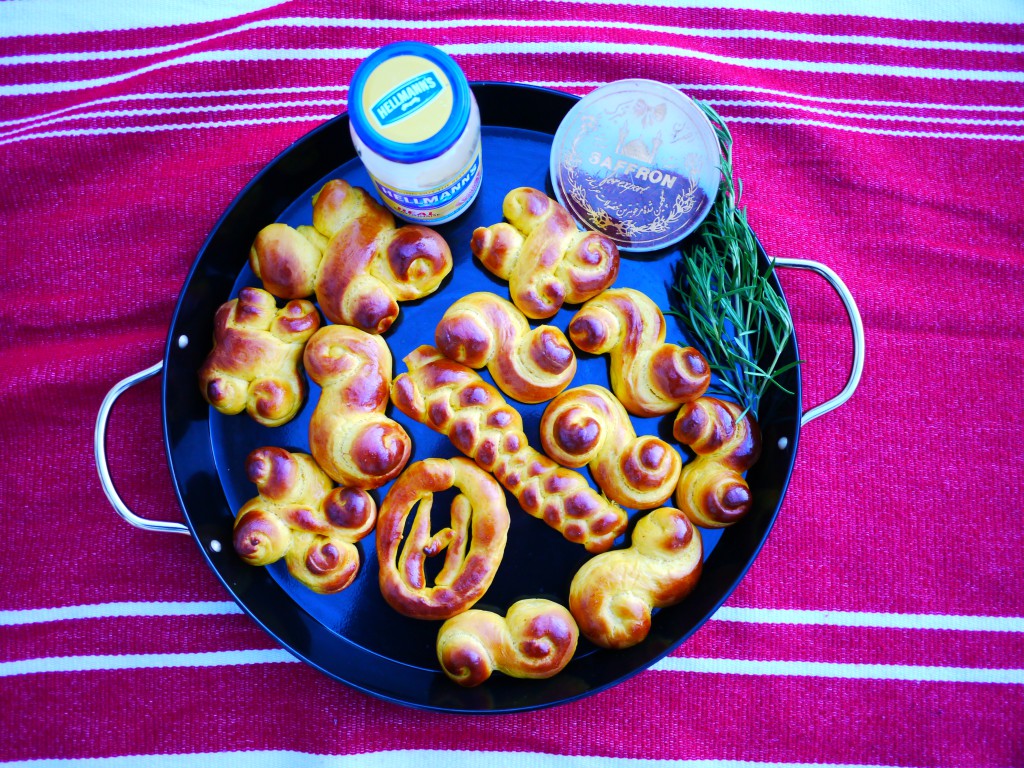 To bake saffron buns around christmas is like a tradition in Sweden. I have no idea how it is in other countries but here, we make saffron buns. And I don't even like sweet things. I know I keep telling you kids that but its true. But how can say nay to saffron buns I wonder.
And then I got this recipe from Hellmans that told me to put mayonnaise in the dough. And I had to try. So here we go:
50 g yeast for sweet doughs
5 dl milk
1-1,5 g saffron (I used 1 g)
200 g of mayonnaise
2 dl of sugar
16 dl of flour
As you can see. It easy to make this. It takes some time but you will fucking make it. OK.
Crumble the yeast in a big bowl. Heat the milk tip its finger warm and add the saffron to the milk and stir. Pour the saffron milk on the yeast and stir. Add mayonnaise, sugar and stir again. Take a wooden spoon. Add almost all of the flour and stir. Stir for your life. Stir, puff, pull, push and stir a little bit more for about 10 minutes. This is how the dough turns out fabulous. When you have done that for 10 minutes, take some plastic film and wrap it over the bowl and let the dough rest/ferment(?) for 40 minutes.
When 40 minutes has passed, put the oven on 250 celsius. Put the dough on a clean, nice place. Add flour and start to work your dough. Do it for like 2 minutes. NOW THE FUN BEGINS KIDS. MAKE BUNS OR WHAT THE FUCK YOU WANT. Me and my brother made: a lobster, a murder snail, an olive, a G-klef, a sperm, a braid and tons of other things.
Put it on a oven plate and cover with a kitchen cloth. Let it rest for 15-20 minutes.
NOW beat an egg and brush the buns with the egg. Pop in the oven for 8 minutes. But have a look now and then. They can burn.
I LOVE WHEN THEY ARE ALMOST BURNED AND YO CAN EAT THEM HOT WITH A GLASS OF WHOLE MILK
PUSS